(Presented in randomized order.)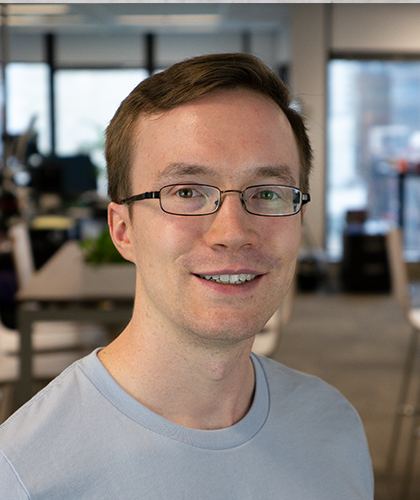 Alain Carter
(HE/HIM)
Programmer
With experience in AAA, mobile, and social games, Alain worked for years on game side projects and game jams before making the transition to professional independent development.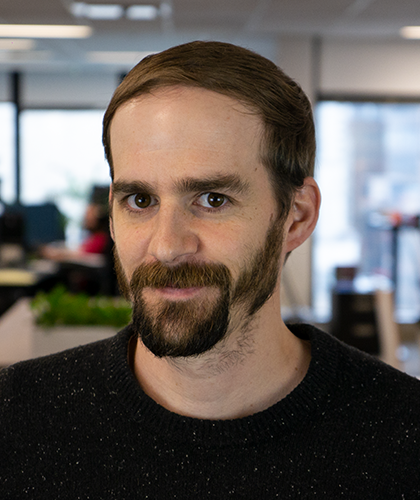 Antoine Lendrevie
Art Director
Voxel artist best known as "Sir_Carma" and art director on Industries of Titan. Personal and professional work shared on Twitter.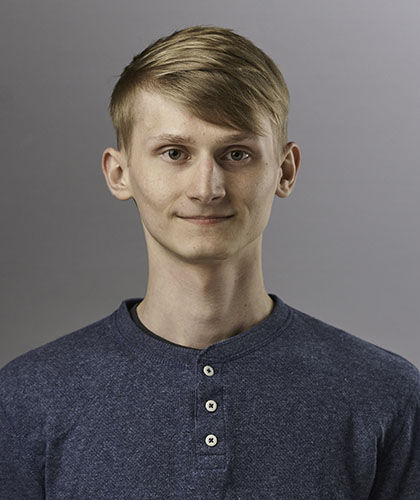 Nikita Kotter
Game Designer
A generalist game designer who lives and breathes games development, Nikita has been working on hobbyist projects since 2010. He strives to learn more and create awesome games with like-minded people.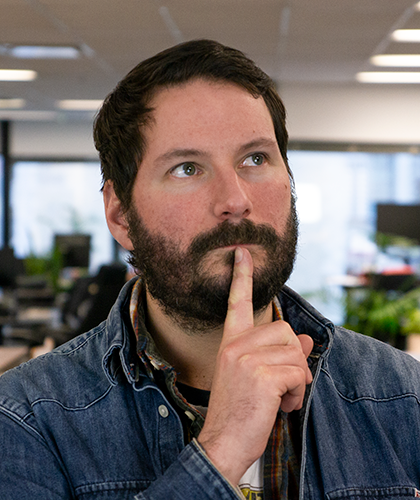 Nick Gunn
Lead 3D Artist
Nick is a versatile artist with expertise in 3D art and character creation and has a passion for distinctive art in games. His professional journey has consisted of over a decade of contributions to many social, mobile, and indie game projects.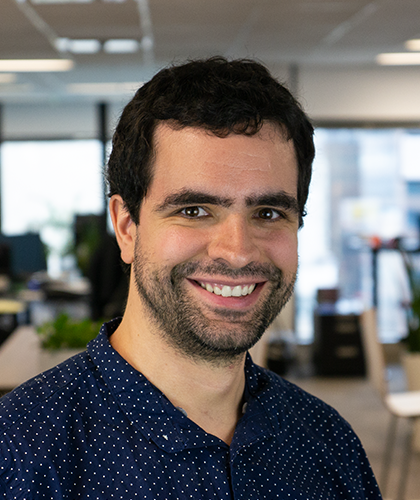 Oliver Trujillo
Lead Designer, Programmer
Oliver has been an indie game developer since 2007. He has worked as a lead programmer on Crypt of the Necrodancer, IncrediBots, and The Amazing Brain Train. He is particularly interested in Artificial Intelligence, and how to apply various AI techniques to game design.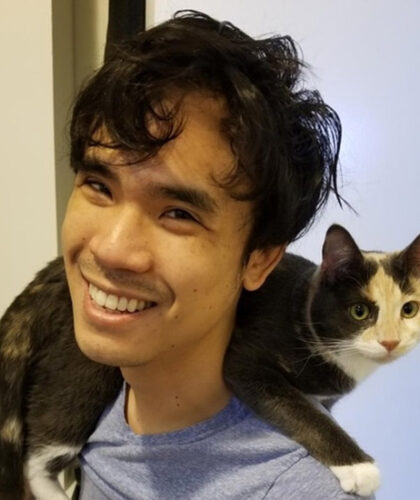 Andy Nguyen
Lead Designer, Project Manager
Andy Nguyen has been in indie game development since 2011. He started his career as a designer and level designer for Monaco: What's Yours is Mine. Andy would later work as a producer and designer for Tooth and Tail. During this time, Andy was recognized for pioneering development oriented communication by Discord, which would later become a staple of Discord's platform. In 2017, Andy joined Ryan Clark at Brace Yourself Games. Andy is currently the project lead on Industries of Titan.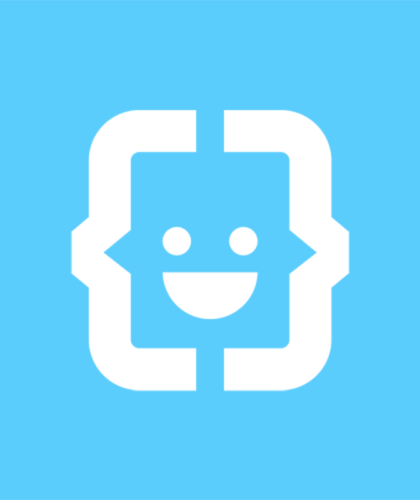 Chloe Ezra
Assistant Event Manager, Illustrator
Chloe began as a hockey comic artist, freelance illustrator, and animator.  She dreams of RPGs, spreadsheets, and cats.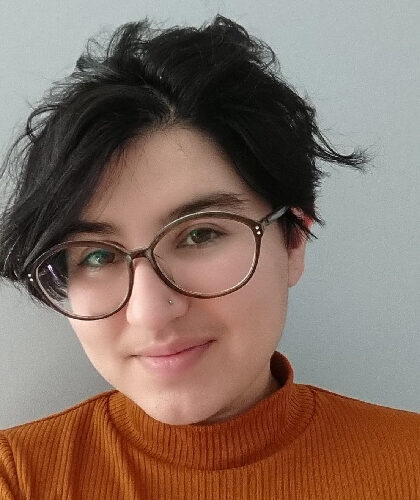 Bahar Vaghari Moghaddam
(SHE/THEY)
QA Tester
Bahar studied sociology at SFU and has been co-organizing the Queerness and Games Conference since 2019. When she's not working or studying, she enjoys painting, cooking, and playing odd DS games.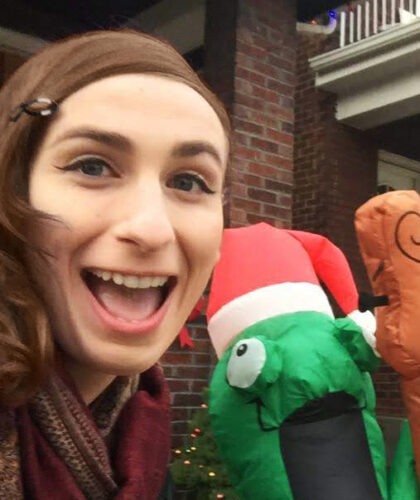 Mel Severs
(SHE/THEY)
Assistant Video Producer
Mel is a digital motion artist. They've worked in games and advertising since 2013 making anything from pixel art and animations for indie games like Hive Jump to sleek motion graphics for brands and nonprofits. Currently editing and animating video for promotions and developer updates.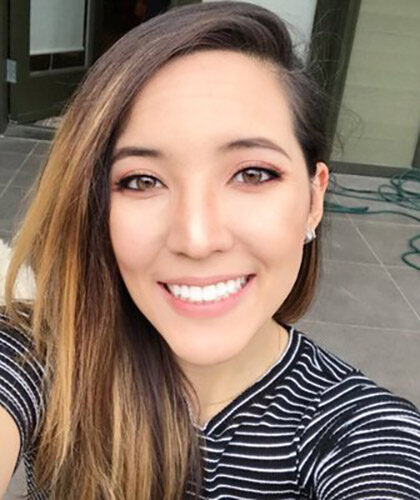 Madeleine Gray
Community Manager
Madeleine (also responds to Maddie) began her career on the esports side of the biz before making the leap to game dev. She will use any excuse to talk about anime, food, or D&D, so don't get her started.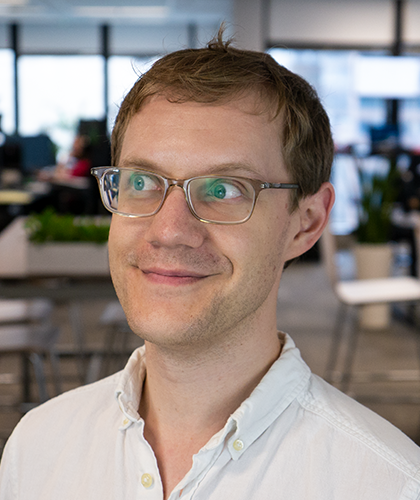 Ben Humphreys
Programmer, UI Designer
Ben is a programmer and UI/UX nerd. He wants to make games that are a joy to interact with.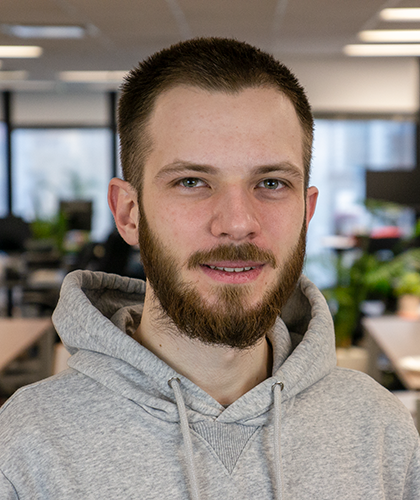 Pavel Efimov
3D Artist, Technical Artist
Pavel is a 3D artist / generalist who enjoys making game art the most when it's a combination of popping 3D graphics and some tech behind it that makes it alive. Loves establishing content pipelines, enjoys vivid-colored art (does it look weird? even better) and is passionate about car culture.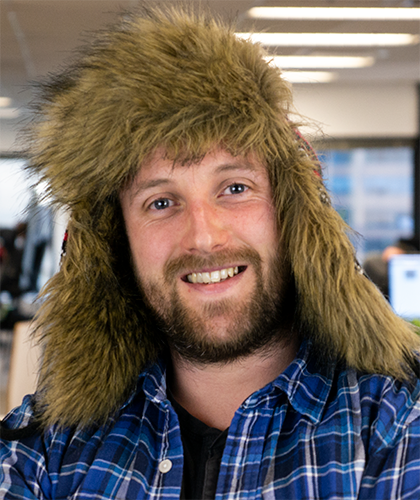 Pete Thorneycroft
Lead Animator
Pete has been animating professionally for the last 10 years, working primarily in TV and games. He had worked on notable projects such as Path of Exile, Injustice 2 and Gears of War 5 before bringing his talents to Brace Yourself Games.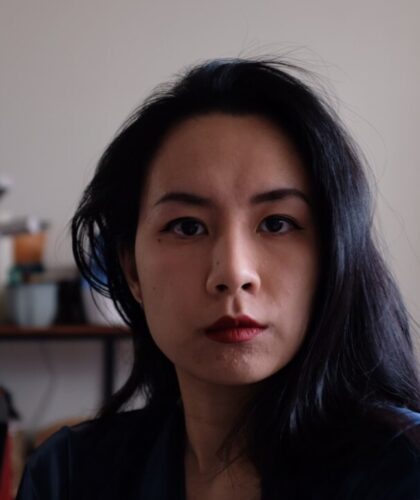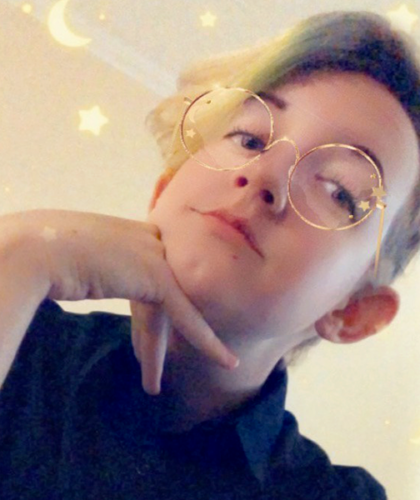 Chelsea Ferguson
(SHE/HER)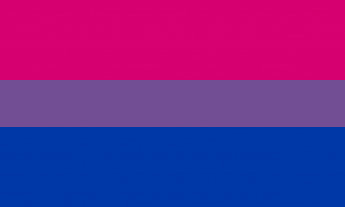 Office Manager
Chelsea graduated from Sheridan Animation and has been doing freelance since 2006. Pokemon Red unleashed her obsession with video games. Dog obsessed, she's always drawing shibas, taking care of her Animal Crossing neighbors, and watching tons of Disney and Anime.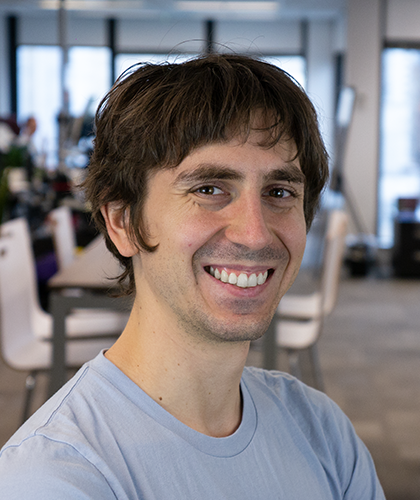 Stephen Kiazyk
Programmer
Stephen joined the game industry after toying with hobbyist game development for many years prior. With industry experience ranging from visual effects, web front and back-end, virtual reality, and computational geometry, he lives an eternal commitment to becoming a Jack-of-too-many trades.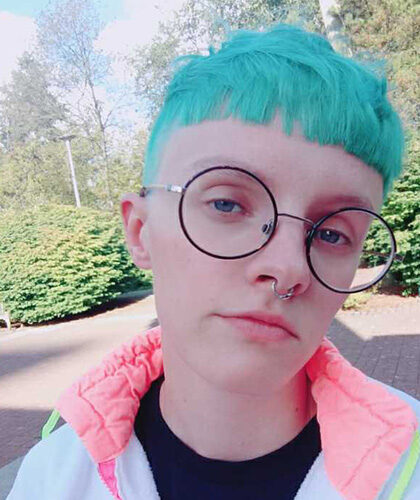 Alexa Schiess
(SHE/HER)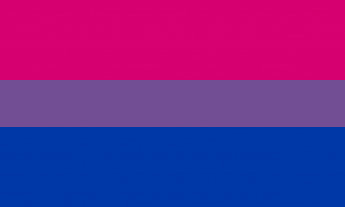 Senior QA Tester
Passionate about documented and efficient problem solving, Alexa worked as a printing press operator for several years before finally making the jump to games (although still a big nerd for print technology). In her spare time, she likes lifting heavy weights and putting them down again.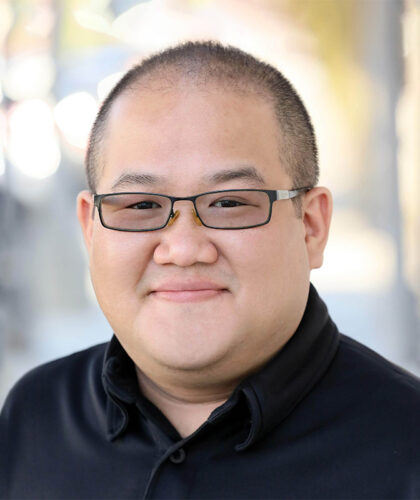 James Chan
Chief Operations Officer
Over 2 decades of industry experience leading game engineering teams has chipped away at his sanity. He now enjoys social engineering his coworkers instead.
Mobeen Fikree
Technical Director
Mobeen has been making indie games since 2014, designing & programming games like Super Crush KO and Graceful Explosion Machine. He is equally passionate about solving challenging technical problems and designing novel game mechanics.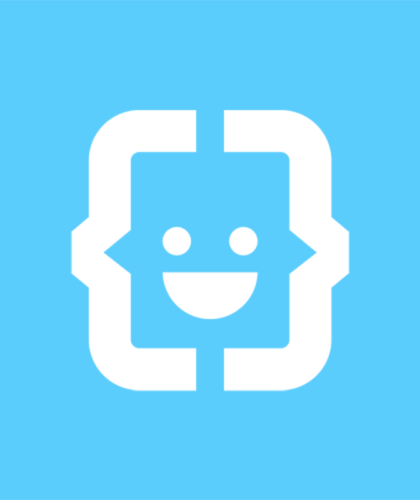 Hanna Hildebrandt
VFX Artist
Hanna is a technical artist, writer, and award-winning animation director who has worked on more than 40 different video games, movies, and TV shows. She has a background in interactive fiction, UI design, film production, programming, VFX, theatre, and journalism, which is both strangely confluent and difficult to fit in a bio.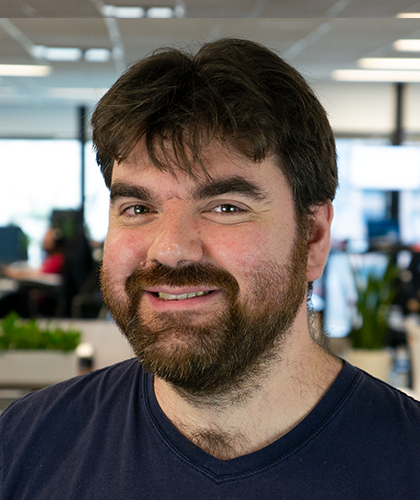 Alex Vostrov
Programmer
Alex has been making indie games since 2008.  He has worked on games including Infested Planet and Eets Munchies, as well as numerous freeware games.  He is interested in artificial character simulation and emergent system design.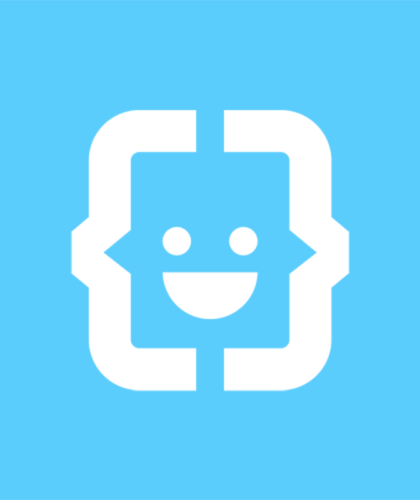 Cindy Chow
Producer, Event Manager
Producer and Event Manager with a decade of experience in both indie and AAA companies across North America. Enjoys games just a little more than cake and pie.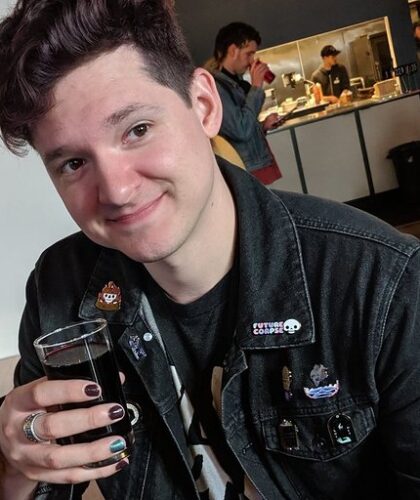 Matt Donatelli
(HE/THEY)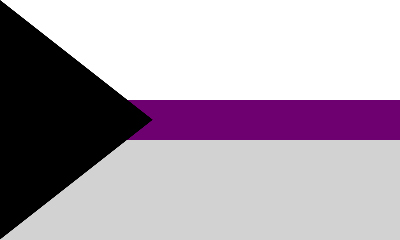 Associate Producer
Matt has worked in the games industry since 2008. He's developed everything from AAA titles like Wolfenstein to crowdfunded indie projects like Hive Jump. He's a multi-disciplinary game developer who specializes in production and is currently helping out on Industries of Titan and Phantom Brigade.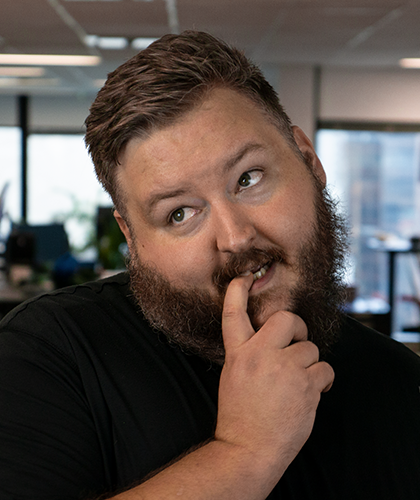 Danny Baranowsky
Composer, Designer
Danny Baranowsky is a composer, musician and larger-than-life personality living in Vancouver, Canada by way of Mesa, Arizona. Over the past decade, Danny has risen to the top of his field, composing the music for best-selling games Canabalt, Super Meat Boy, The Binding of Isaac, Desktop Dungeons, Crypt of the Necrodancer, and more. Danny's music immediately demands attention with soaring melodies and complex harmonies and has garnered him critical acclaim from publications such as Kotaku, PCGamer and Destructoid.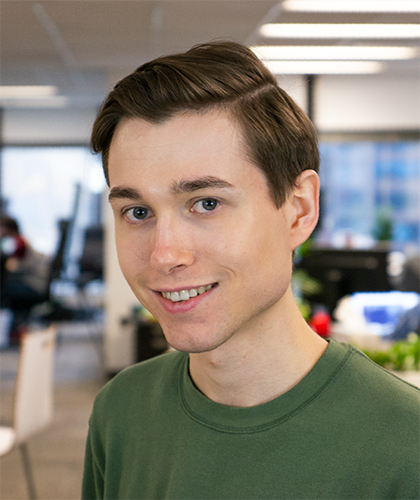 Artyom Zuev
Technical Artist
A generalist with deep passion for technical art, equally excited to work on flashy visuals and the logic powering them.
Agustín Delger
Lead Programmer
Agustín is a young and motivated developer who enjoys every challenge day to day programming can offer. Currently working on Industries of Titan as UE4 programmer. He is also passionate about doing sports, especially if a racket and ball are involved. He dreams of someday being good at them.
Dakota Bosman-Kennedy
Junior QA Tester
Dakota's love-affair with game design and programming began at an early age with the versatility of the Starcraft Campaign Editor. After exploring a variety of career paths he found his passion in the game industry's creative and collaborative work environment. In his free time, Dakota enjoys learning about the world, breaking strategy games, and bouldering.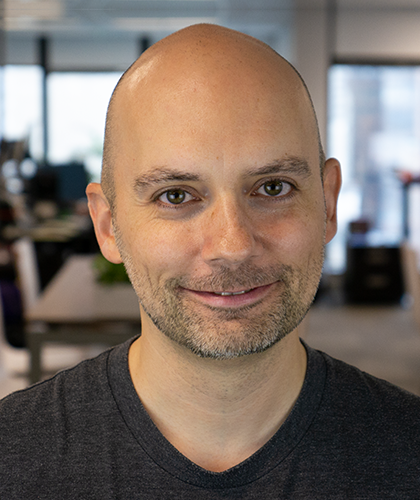 Ryan Clark
Founder, Designer, Programmer
A veteran independent game developer, Ryan has been creating award winning games since 2004, including Crypt of the NecroDancer, IncrediBots, Professor Fizzwizzle, and many more.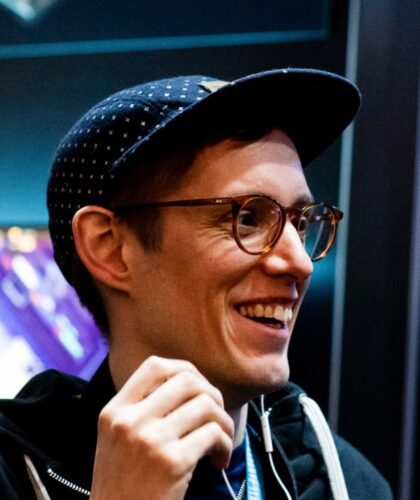 Marlon Wiebe
Video Producer
Marlon is a videographer, editor, and motion graphics animator who has made many indie video game trailers and cinematics over the years. Along with Crypt of the Necrodancer and Industries of Titan, he's worked on other prominent games such as Darkest Dungeon, FTL, Into the Breach, Lovers in a Dangerous Spacetime and many more.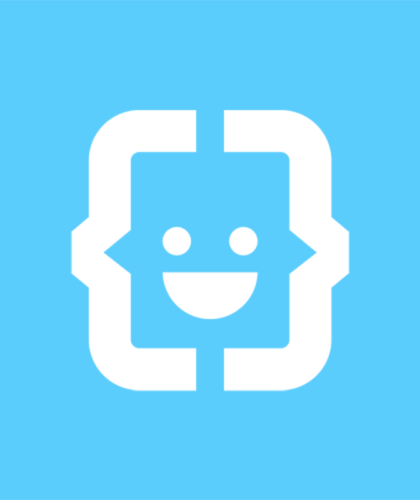 Lilly Lee
(SHE/HER)
Financial Controller
While working as a bookkeeper to pay for her accounting degree, Lilly spent mornings on the WoW auction house buying and trading items to amass a horde of gold. Now, with over 15 years of work experience in finance, she uses her skills as the financial controller of Brace Yourself Games. When she's not working, she likes to knit and hang out with her husband, son, and guinea pig.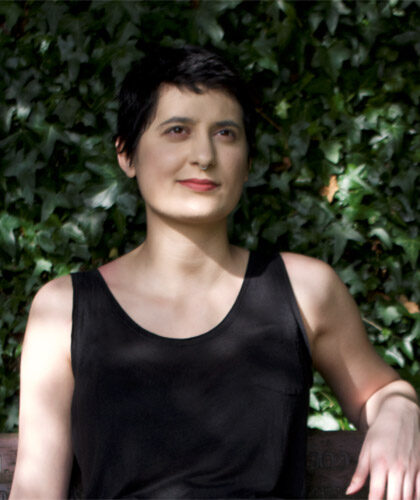 Lulu Kadhim
(SHE/HER)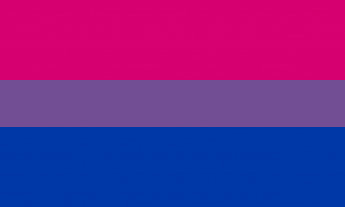 Writer
Lulu is a speculative writer whose short fiction has appeared in Lightspeed, Fantasy Magazine and Translunar Travelers Lounge. She wrote Track the Ripper, a New Adventure for the Zombies, Run! app. She's obsessed with board games, good food and terrible reality dating shows.
This is the BYG Vancouver team, but we also collaborate with other amazing contractors and consultants from around the globe!