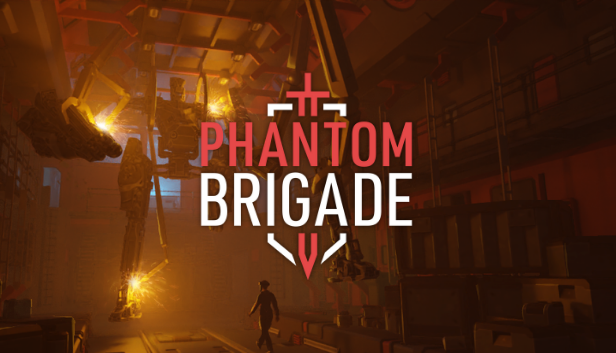 Hi there, and welcome to Phantom Brigade's FAQ! For those who have questions regarding gameplay, the 1.0 launch, our team, and more, please check out the FAQ we have put together below.
GENERAL INFORMATION
WHAT IS PHANTOM BRIGADE?
Phantom Brigade is a hybrid real-time and turn-based tactical RPG, focusing on in-depth customization and player-driven stories. As the last surviving squad of mech pilots, you must use your sole advantage of prediction technology to capture enemy equipment and facilities to level the playing field. Outnumbered and out-gunned, we need you to lead the Brigade through a desperate campaign to retake their war-torn homeland.
WHERE CAN I GET PHANTOM BRIGADE?
Phantom Brigade 1.0 launched on Steam and the Epic Games Store on February 28th, 2023. We currently do not have plans to release on GOG or Humble.
HOW MUCH DOES PHANTOM BRIGADE COST?
$29.99 USD
WILL PHANTOM BRIGADE BE COMING TO CONSOLE?
At this time, Phantom Brigade will be a PC-only title. We may consider porting to consoles at a later date.
WILL PHANTOM BRIGADE BE AVAILABLE ON LINUX/MAC?
While we don't officially support Linux, the game does run on the Deck (SteamOS) which is a Linux distribution, though third party tools like Proton. We don't currently have plans to support Mac but may consider porting to Mac at a later date.
WILL THERE BE MULTIPLAYER?
Multiplayer for Phantom Brigade is not planned at this time as we have been directing all of our focus on fleshing out the single-player campaign.
IS THERE A SOUNDTRACK AVAILABLE?
Yes! It is available on Steam, on composer Riley Koenig's Bandcamp, YouTube, and Spotify.
SUPPORT
WHAT LANGUAGES ARE SUPPORTED?
As of 1.0 we support the following languages:
English

French

Italian

German

Japanese

Portuguese – Brazil

Simplified Chinese

Spanish – Spain

Russian

Korean

Traditional Chinese
WILL THERE BE CONTROLLER SUPPORT?
While you can use a controller to play Phantom Brigade, the game is currently only optimized for keyboard and mouse.
WILL THERE BE MOD SUPPORT?
We have a strong relationship with our modding community; you will often find our devs providing assistance and exchanging feedback with them in our Discord, and we plan to continue supporting mods.
WILL THERE BE SUPPORT FOR CUSTOM KEY BINDINGS?
Yes, custom key bindings have now been implemented.
WILL PHANTOM SUPPORT CLOUD SAVES?
Yes, Phantom Brigade currently supports cloud saves on both Steam and the Epic Games Store.
WILL MY EPIC GAMES STORE SAVES TRANSFER TO THE STEAM VERSION?
Yes, if you own both versions your saves on the Epic version are fully-compatible with the Steam version.
WILL PHANTOM BRIGADE BE DRM-FREE?
Phantom Brigade is not DRM-free on Steam, though it is on the Epic Game Store.
HELP, MY COMPUTER CRASHED WHILE I WAS PLAYING, AND WHEN I TRIED TO RESTART THE GAME SAID A CONFLICT EXISTED BETWEEN MY ONLINE AND LOCAL SAVES. WHEN I SYNCED, ALL MY SAVE FILES WERE DELETED.
Unfortunately, if this happens there's nothing you can do to recover those save files. We advise all players that if their game is interrupted and they receive a message like this to back up your save files before syncing.
ABOUT THE TEAM
WHO ARE BRACE YOURSELF GAMES?
We're the indie Katamari! Brace Yourself Games hails from Vancouver, Canada and is the independent game studio behind Crypt of the NecroDancer, Cadence of Hyrule: Crypt of the NecroDancer featuring The Legend of Zelda, Industries of Titan, and multiple other titles that we are publishing.
HOW ELSE CAN I BE INVOLVED IN THE COMMUNITY?
You can join the Brace Yourself Games Discord to gain access to Phantom Brigade-related channels where you can provide feedback, chat with other community members and the developers, and share your own content! You can also follow us on Twitter or subscribe to BYG's newsletter for all the latest announcements!
WHO IS WORKING ON PHANTOM BRIGADE?
You can find a list of the team credits online or in the game's main menu on the "help pages" sub-menu. 
HOW LONG HAS PHANTOM BEEN IN DEVELOPMENT?
Phantom has been publicly in development since March 2017, the early access period of which lasted from November 16th 2020 to February 28th 2023.
GAMEPLAY
HELP, I LOST ALL MY UNITS AND NOW I HAVE NO WAY TO FIGHT! WHAT DO I DO?
This can be solved by using the "Fallback" button at the bottom of the screen, which will deposit you at the nearest liberated province's central base and give you some extra supplies so that you can continue your journey. Also, if you run into an enemy unit and can't fight back, the base will retreat to the nearest friendly base and re-arm.
HOW DO I RECRUIT MORE PILOTS?
Simply head to any liberated base; from there you will have the option to recruit pilots and resupply your mobile base.
WILL THERE BE A REPLAY FUNCTION SO I CAN SEE MY COMBAT ALL AT ONCE?
Yes, we have now added the single-turn replay feature to the game! At this time, we cannot promise that we will be implementing any other replay functionalities such as full match replay as it poses a great technical challenge.
WILL YOU BE ADDING MORE PILOT MECHANICS (STATS/LEVELING/ETC)?
We presently have no plans to add more mechanics to the pilot system.
WILL THERE BE A WAY TO APPLY LIVERY TO MY WHOLE MECH INSTEAD OF INDIVIDUAL PARTS?
Yes! You can now apply liveries to the whole mech.
HOW DOES PILOT HEALTH WORK?
Pilot health decreases when they sustain damage and slowly recovers after battles. If pilots are injured too much in battle, they can die or be knocked unconscious. Every pilot has a different, random threshold for how much damage they can sustain before they become concussed.
WILL THERE BE MISSILES/MINES/BEAM SWORDS/AXES/ETC.?
We have now added swords, missiles, axes, and a range of other weapons to choose from!
WILL THERE BE MORE TYPES OF ENEMIES?
We have no plans to implement more enemy types at present.
WILL YOU ADD DIFFERENT TYPES OF MECHS?
All the mechs in Phantom Brigade will be humanoid. The main reason behind this is that our animation system is incredibly complex and is really only set up to support one type of mech frame. It would be a huge burden on our already small core team to support other types of mechs so it's unfortunately not possible for us to add different ones.
CAN I CHANGE THE NAME OF MY MECHS?
Yes, you can now change the names of your mechs!
WILL REPAIR TIME BE DEPENDENT ON ACTUAL DAMAGE OR WILL IT ALWAYS TAKE 3 HOURS TO REPAIR EVEN SMALL DAMAGE?
Repair time now scales to the amount of damage the unit has sustained as opposed to a fixed repair time.