Hello Founder. Today, we close our logs on an incredible first week of Early Access and prepare for the future. We truly can't thank you enough for the support we've received so far. Thanks to you, we…
Made it to the front page of Steam
Became a global top seller
Were one of the most watched livestreams all week
We've gotten a lot of feedback from you over the course of this last week, so we wanted to take some time to address the most common pieces of feedback we've received, let you know our upcoming plans, as well as when you can expect our next patch. This is going to be a long one, so strap in.
Feedback
The feedback we received from you can fall into five main categories: Tutorial, Ships and Blueprint Mode, Combat, Waste Management, and Balance. So let's talk about those.
Tutorial
As is the nature of early access, Industries of Titan has undergone a lot of changes and additions. This means that the tutorial has and will undergo a lot of changes as well. As it stands, the tutorial is long. We are constantly trying to find a balance between what is just the right amount, and what is too much. Are players able to figure this out themselves through tooltips/UI? Are we curbing player creativity by over-explaining this? Will this overwhelm the player with too much information?
There's a lot to consider and we have been very close to this game for a long time, so we greatly appreciate your feedback on aspects of the game you find confusing.
So far, these are the main areas that we've identified from you that need more fine-tuning:
Fuel and Xethane
Processing and Refinement
Ships and Ship Building
There are already fuel and Xethane tutorial updates that we're including in the next patch. We have also noted that, while there is an option to call your Advisors for more tips, players generally tend not to, so we'd like to address this in the future as well.
Ships and Blueprint Mode
Probably the most received feedback is that players don't want to keep having to build every ship from scratch. To address this, we are working on a 'blueprint' mode, which will allow you to better plan and replicate ship designs in the future.
Combat
We've heard the feedback that rebel bases, especially when they have several Level 3 turrets in close proximity with each other, are very difficult to destroy.
We've also received a lot of feedback on ship to ship combat, and ship to building combat in general. Because our combat was designed to be FTL-like, there are several complications to things like multi-selecting ships, and multiple ships being able to attack a single target.
This is something we really want. We have planned for this since the beginning, but we've found that the technical challenges are not simple. It will require revisiting how combat logic works, and require a whole new UI to switch between different targets. We have to apply VFX across multiple scenes and evaluate the performance costs. We want this feature a lot, but we can't say for certain when it will come because of how much work is involved.
Waste Management
Many players have told us that they struggle with managing the waste produced by their city-corporation. We are re-evaluating the logic for how waste jobs are created and believe we can improve the AI to be more efficient with less fiddly parts. Some of our logic isn't working as well as we had hoped, like the truck slider for Smokestacks, so we have some solutions in mind to make it more intuitive and smarter. We also want to give players control over which buildings are prioritized for waste cleanup.
In the meantime, here are some tips for you!
Keep some dedicated employees working on cleaning up waste
Move cleaning waste up your employee prioritization list
Make sure your smokestacks and storage are connect by roads, and have your Smokestack set to be delivered by 'Trucks' or 'Both'
Waste management is tough, but we believe in you!
Balance
We touched on this a little bit already in the previous two points in that 1) we are planning to balance turrets, and 2) we have plans to better manage waste, but there are a couple other points that we noted from the community.
Namely, most players felt that rebel waves were far too easy and were over with too quickly. At the same time, players stated that 'Hard' difficulty was too difficult, so we'll be adjusting that too.
Tactical combat is a key aspect of Titan's design and we've found that combat waves are over before interesting strategies can emerge. As a result, we will be increasing the HP of ships so players in ship vs ship combat can have more time to strategize about how to disable an enemy ship. All buildings will have proportionally increased HP to maintain the current balance. The overall effect is that all DPS is now lower so combat lasts longer.
There were other pieces of feedback we received, but these points were the majority of it. There will be other fixes and updates in the next patch to things like better ways to understand employee prioritization, UI, tooltips, leaderboards, achievements (to make them less grindy), and the minimap, so you can also look forward to those.
What's Next?
You can expect the next patch on Tuesday, July 6th at 11:00AM PST // 6:00PM UTC. As a general note, all of our major monthly updates will occur on the first Tuesday of every month at around that time. We fondly dub these update days Titan Tuesdays.
Please take a look at our roadmap below to see more of what to expect for future Titan Tuesdays.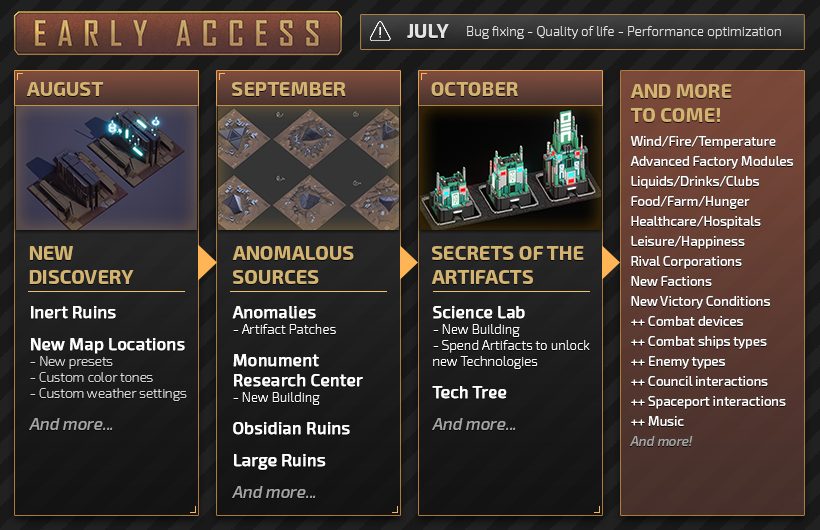 That will be all, Founder. We continue to expect great things from you.
– The Council