It's been a month since Phantom Brigade launched in Early Access, and we have been absolutely floored by the response! We want to make sure every step we take going forward will only make Phantom Brigade bigger and better. We can't wait to experience this game with you. Here is the first of many Early Access updates. We are currently aiming to have a monthly update Cadence, with big updates going out on the third Tuesday of every month.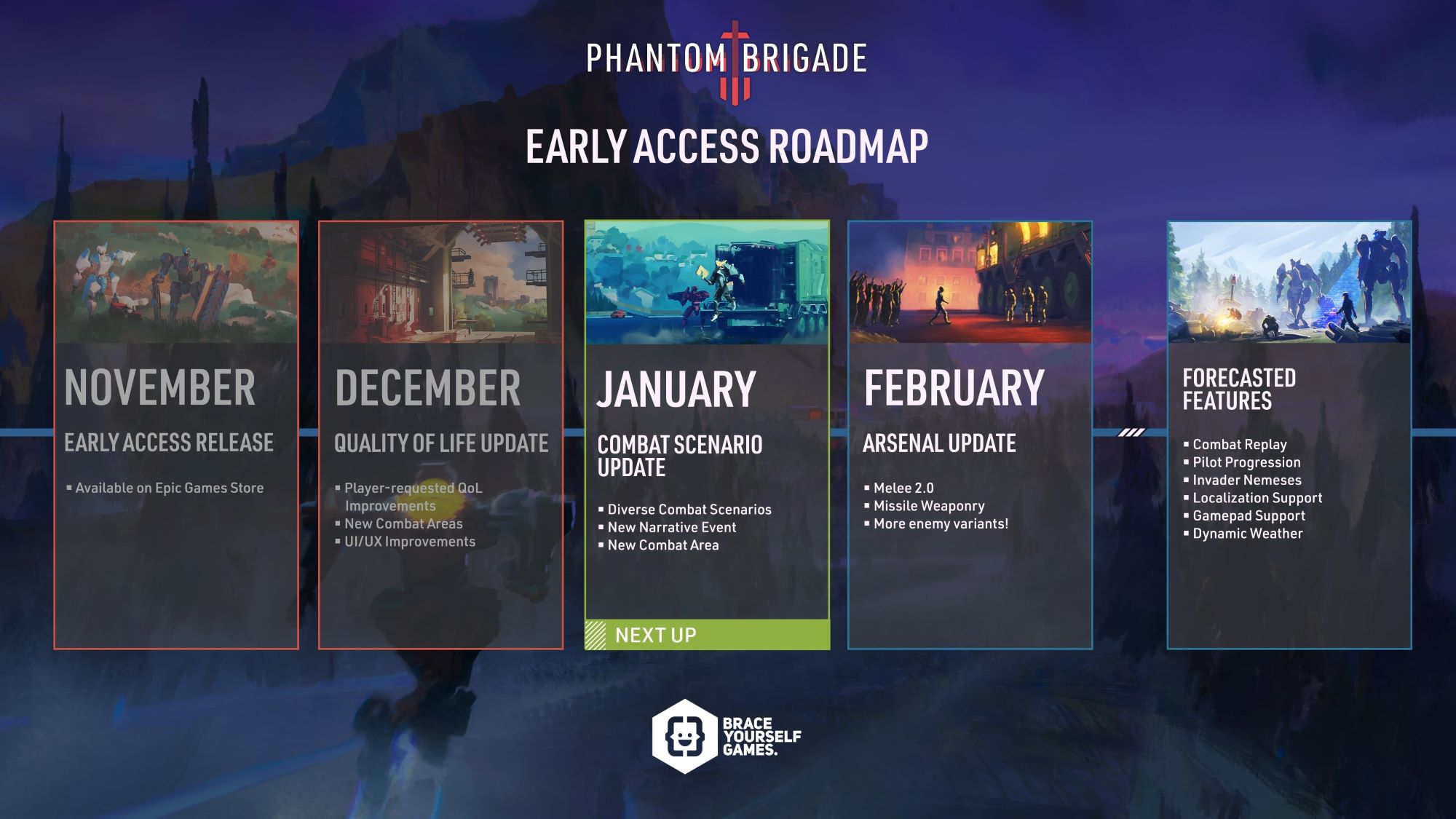 Changes in 0.2.0-b1012
? indicates changes due to community feedback!
What's new, Scooby Doo?
Two new shields: Ajax and Svalinn

Four new combat maps have been added to military sites and industrial facilities

It is now possible to delete saves from the in-game save menu
Prepare for combat in the new mission briefing area of the mobile base! Easily view and manage the team being deployed (using the new button to the bottom left of the briefing screen).
Learn the lay of the land by inspecting the holographic map table in the crawler

A new dynamic difficulty indicator has been added to mission briefing. As you change the size and build of your team the estimated difficulty of the upcoming encounter also changes

New UI makes it easy to navigate between unit editing and pilot assignments
? Put yourself in the game! It's now possible to add in your own custom pilot portraits. 
Go to C:\Program Files\Epic Games\PhantomBrigade and search for "streamingAssets" in the game folder

Drop your image in UI\PilotPortraits. Images must be in PNG format, 256×256, and under 200 KB
The Hills are Alive (with Music and Audio Updates)
New music has been added to combat when you take the advantage in a battle!

Music in liberated provinces has been extended

New combat SFX including new bullet impacts, concussion, and slow-motion effects
UI/UX Changes
Hover over site intel on the overworld to get more details on which faction is defending it

New UI on sites with enough intel on the overworld indicates combat difficulty

? New "new" flag (the white triangle in the bottom corner of the part) on new parts listed in the base and in site inventory after combat

Control time during turn execution in battle! Want to set up a great shot just the way you want it? Click the controls in the bottom left corner of the screen or press 1-2-3-4 on your keyboard (just like with action palette during planning) to switch between pause and different time scales.
A Balancing Act
The level of the units built in the workshop now matches the highest level province you have liberated

? Fatigue has now changed to a -100, 0, 100 scale

? Balance adjustments to combat difficulty and concussion
And lots of bug fixes!
Fixed issues
Fixed patrols and convoys not spawning in provinces after Ostbager-Weil

Fixed an issue where occasionally, actions in the timeline could not be cancelled

Fixes to the part filter, it now resets on exit and when no parts or subsystems are available

Fixed time on the overworld before entering combat persisting after exiting. The game is now paused after exiting combat

Fixed an issue where facilities were displaying too much intel by default

Fixed mech customization UI not showing leveled stats on subsystems

Inventory filters no longer persist across playthroughs

Made units easier to select on combat maps

Fixed the Village Siege event getting triggered twice if the game is saved and reloaded during  the "Where there's smoke" event 

Fixed an issue making the concussion-weight balance inaccurate

Various animation improvements to shielding and bracing

Fixed Market events not spawning correctly 

Fixed overworld province labels showing incorrect level

Fixed starting fallback unit starting at level 1

Fixed an issue where MMG was using AR projectiles instead of MB projectiles

Fixed an issue where loading a save in a claimed province will not play hope music until unpausing

It is no longer possible to enter combat with unequipped arms; mission briefing will now warn the player of specific missing parts blocking deployment

Newly recruited pilots now show the correct portraits

Fixed various typos, missing text, and phrasing issues

Various audio fixes

Various UI fixes in the base and on the overworld

Various fixes to props and visuals on combat maps
YOU CAN FIND THE FULL LIST OF KNOWN ISSUES HERE.