Changes in 0.8.1-b2090
? indicates changes due to community feedback
Something in the wind…
Added combat atmosphere: Watch the environment get darker and smokier as the map takes more damage
Light Up!
Silhouettes: Units will now emit a glow to improve visibility on the map, this can be disabled along with other combat UI using Num –

Spotlights: Mechs now a head light that illuminates the area in front of them at night

Eye flares: Mech eyes now flash right before they attack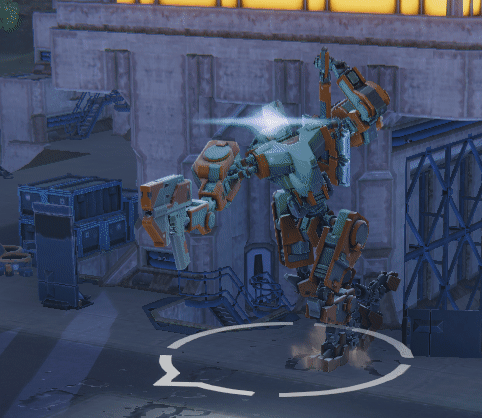 UH Beam Weapon
New Ultra Heavy Beam Weapon BEM UH 01! These spawn randomly on units of all branches, similar to the Vulcan.

A remarkably long-range weapon with long duration, high heat, and heavyweight that deals an absurd amount of damage and instantly cuts buildings in half but can barely rotate, relying on mech movement to stay on target.
New salvage and combat summary UI
New salvage screen! After winning combat, you must now carefully decide how to spend your salvage budget. 

?You can choose to salvage, dismantle for supplies, or skip salvaging entirely to avoid cluttering your inventory. Some parts will be more expensive than others to salvage so choose wisely!

Surrendered or ejected units will have a lower salvage cost on their parts than destroyed units will.

?Any parts in the "Root" are free to salvage!

As such, salvage no longer takes time on the overworld and once a site is salvaged, it can't be returned to. Saving and autosaving on this screen is no longer available.

A new tutorial has been added to take you through the UI the first time you salvage on the new screen.

Group information window (in the bottom left hand corner of the new salvage screen) includes the combat stats of that unit.

Please note that at the moment all stats show "0". Thank you for your patience as we work on fixing this!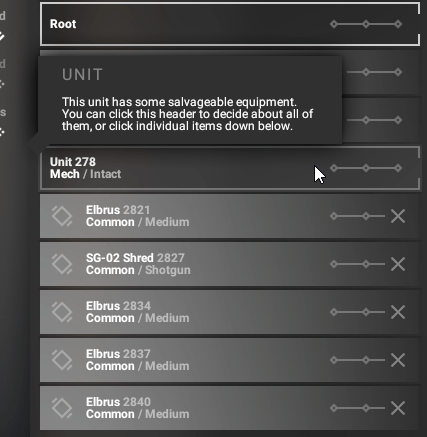 Updated Part Quality
We've updated the colours and quality of salvagable parts. Quality determines how often the part drops as loot, how many subsystems are unfused, and the performance of subsystems that are present in the part's hardpoints. From common to exceptional these are:

White – Common

Green – Uncommon

Blue – Rare
Analytics
We're now using Unity Analytics to learn more about how Phantom Brigade is being played. This information includes user ID, location, session length, number of sessions, and game progress (such as where in the game a player has quit and what provinces have been captured)

See "privacy" on the main menu for more details on Unity's Data Privacy and to opt-out
Miscellaneous
Improved confirmation UI in various parts of the game
Movement actions that span into the next turn are now drawn as a continuous action instead of separate ones
Lots of bug fixes!
Fixed Issues in 0.8.1-b2090
Fixed weapon firing before fully unholstering after a melee strike 

Fixed buggy animation when mech is only equipped with a secondary weapon

Fixed foot plant animation being out of sync with SFX

Fixed beams not inflicting impact damage

Fixed If a mech has a primary two handed weapon and the right arm is broken, mech will keep left arm in holding pose
YOU CAN FIND THE FULL LIST OF KNOWN ISSUES HERE.